Imagine tall majestic mountains rolling down to the powerful Atlantic Ocean, surrounded by lush green grass. Idyllic towns and villages dotted amongst the rugged peaks of the mountains, with beautiful fishing ports controlling its coastal strip. This is Cantabria and this is where myself and four others headed off as guests of the Spanish Tourist Board on a FAM (familiarisation) trip in September 2012.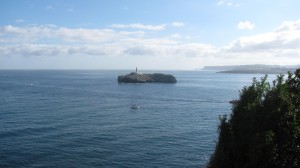 When I think of Spa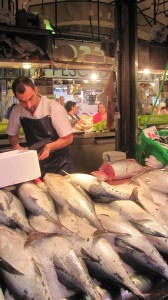 in, I think of hot, arid, sun-drenched land. To my surprise the province of Cantabria in the North of Spain does not follow suit. Like ourselves they are used to the odd drop of rain and the grass is as green as our own Emerald Isle. Our guide for the four days was the delightful and effervescent Lisa-Lott who was always on hand in her own inimitable way to make sure we experienced everything Cantabria had to offer.
The city of Santander was our first port of call and our hotel was located on the beach of 'El Sardinero' overlooking the beautiful Bay of Santander with its sardine teemed waters. We visited the bustling local city market and witnessed the local fish mongers expertly fillet the biggest tuna fish I have ever seen, we seen the beautiful former summer residence of the Spanish Royal Family – the Palacio de la Magdalena, where we were informed our very own President Higgins had previously spent time studying Spanish and we stood at the Cabo Mayor lighthouse perched atop the sharp cliffs guarding the entrance to the Bay and admired the stunning views.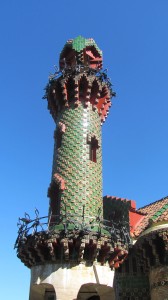 Next up on our itinerary was the town of Comillas. We saw some beautiful architecture here, one of which was the expansive old Jesuit University building which overlooks the town and was restored to its former glory with the help of donations and local residents. I was struck by the sheer size of the building and to me it seemed out of place however it reminded me of the past glories and conquers of the once mighty Spanish Empire. Afterwards we visited the beautiful and stunning 'El Capricho' designed by the famous architect Gaudi. I was surprised to find a work of Gaudis located in this part of the world but at the same time I was very excited. 'El Capricho' to me was the highlight of the FAM trip. This hidden gem in Comillas was truly amazing. Windows operated by a pulley system made musical sounds as they went up and down, there was stained glass designs with bizarre images of birds playing the piano or bees playing guitars – my eyes went into overdrive as everywhere I looked Gaudi had hidden something wonderful.
Our itinerary was packed full of activity and with one and a half days to go myself and my fellow travellers wondered how we would pack everything in! Alas this was no problem to our guide Lisa-lott and soon we were walking on the cobblestoned streets in the beautiful town of Santillana del Mar where we all enjoyed a delicious Spanish lunch in a historic parador. The prehistoric Cave of Altmira was our next stop, it was here that some of the earliest drawings by man were discovered. Unfortunately due to overexploitation in the early 60's by tourism it's not possible to view the actual caves but what you do see is an exact replica of the cave system.  Our disappointments were soon overshadowed when next we visited El Soplao Cave where we took an old mining train deep into this cave system and we all oooh'ed and ahh'ed at the wonderful stalactites and stalagmites.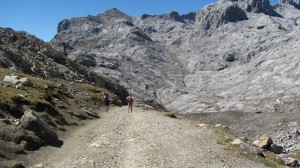 Cantabria is synonymous with its Picos de Europa mountain range. Myself and our group had the pleasure of a short guided mountain hike in the Picos. It began with an awesome cable car lift that rose 2000 feet up into the mountains – this was not for the feint hearted judging by some of the frightened faces around me! But once we reached the top the views that surrounded us were awe inspiring. The terrain was almost moonlike in it's appearance, yet again Cantabria was surprising me with her delights. After our mountain hike and once we reached terra firma, we came across a local Spanish fiesta in the town of Potes.  Although at this stage there was a few weary souls, it was brilliant to experience the fiesta of a small town. A convoy of colourful locally made floats full of people passed by all singing and dancing with smiles a plenty. It was a great pick-me-up for us all after our action packed itinerary.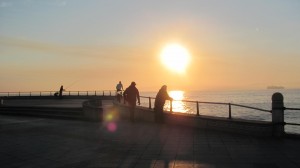 The last image of our FAM trip on our final early morning departure from our hotel in Santander was a beautiful sunrise over Santander Bay, an image which has stayed with me and reminds me of the wonder and surprise that the province of Cantabria holds. I can't wait to go back.
PBM